The results are in for 2020, and much like all aspects of last year, the executive hiring market has everyone ready to move on to 2021. The total number of executive opportunity leads shared and tracked by Lead5 in 2020 was down 34% year over year from 2019.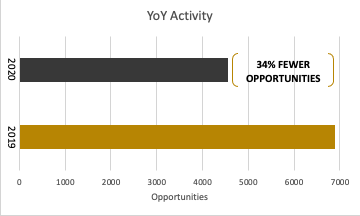 The good news is that the market stabilized in Q3 2020 with a slight uptick for Q4. As we shared in our October Executive Outlook analysis, after discussions with corporate executive recruiters and talent partners from PE firms, we anticipate the traditional Labor Day through Thanksgiving seasonal executive hiring cycle is being pushed back to Q1 2021 due to the global pandemic and the US election cycle.
What this means for you is that executive hiring for Q1 and Q2 in 2021 will bring increased activity and you should be taking steps now to craft a pro-active career strategy. Lead5 will continue to monitor, analyze, and report on these executive hiring trends.
Lead5 is the fastest growing executive community that allows our members to share and exchange hidden exec openings, intel, and career advice. The Lead5 executive platform provides expert methodology and tools, allowing our members to transform data into career advancing results. Learn more at www.lead5.com.