Executive hiring is historically a significant leading indicator of the overall health of the US economy.
Lead5 analysis of the start of Q3 data (July through mid-August) shows a continued downward trend in executive appointments (see chart below).  This trend is troubling, but Lead5 forecasts that the decline from Q2 to Q3 will be slightly less severe than the decline from Q1 to Q2.
Executive opportunities tracked by Lead5 are also trending downward by 45% from Q1 to Mid-August.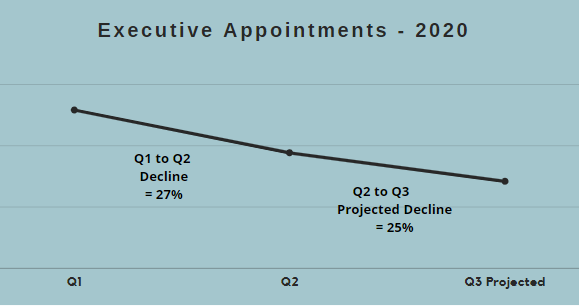 Here at Lead5 we have been in constant discussions with executives through our member consults along with corporate talent partners and PE investors. The general view is June started with good momentum, but July and August from an executive hiring/decision making standpoint has stalled out. Our data supports this view. The historical "check with me after Labor Day" mantra seems to be more heightened this year with the effects of the pandemic and social unrest.
Lead5 will continue to monitor the full Q3 data through September with an eye on a possible uptick after Labor Day to finish Q3 on stronger footing.
See what Lead5 members are saying about the market and join the conversation:
https://lead5.com/community/forums/posts/241182